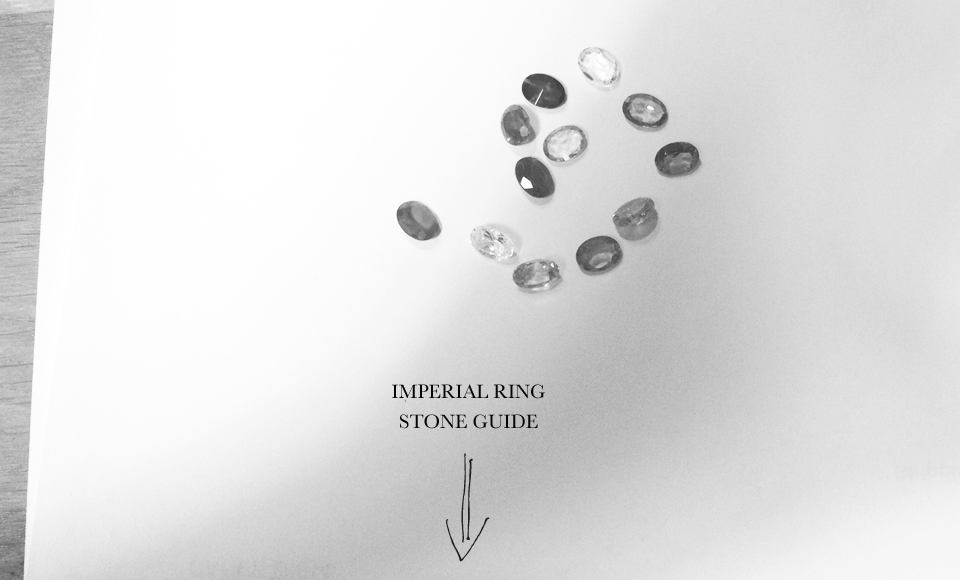 Each stone colour symbolises something unique and plays an important part of the Imperial ring collection. The standard options for your imperial ring are a choice of ten manmade stones. If you prefer something a bit different, you can also choose from our current selection of natural stones via our natural stone marketplace.


Garnet
Garnet's use as a gemstone dates back to ancient Egypt and has been used by man since the late Bronze Age. It was popular with early explorers who carried it with them as a talisman and protective stone.
Birthstone
January
Derivation
from the Latin 'punica granatum' meaning 'pomegranate'

Amethyst
For thousands of years, amethyst has been a jewel coveted by princes both ecclesiastical and secular, as purple is considered a royal colour. It is said to bring good luck and to radiate love.
Birthstone
February
Derivation
From the Ancient Greek ἀμέθυστος, a-methustos meaning 'not intoxicated', a reference to the belief that the stone protected its owner from drunkenness. Ancient Greeks and Romans made drinking vessels of it in the belief that it would prevent poisoning and intoxication.

Aquamarine
Aquamarine is the colour of the sky and water and, as such, is considered to be a divine and eternal stone, thought to bring its wearer knowledge, foresight and inspiration.
Birthstone
March
Derivation
From the Latin phrase 'aqua marina' meaning 'water of the sea'.

White Sapphire
Its beauty, its magnificent colours, its transparency, but also its constancy and durability are qualities associated with white sapphire.
Birthstone
April

Emerald
The emerald has been a stone of fascination in many cultures for over six thousand years. The green of the emerald is a colour which conveys harmony and love of Nature. It has also, for centuries, been the colour of beauty and of constant love.
Birthstone
May

Alexandrite
According to a popular but controversial story, Alexandrite was discovered by a Finnish mineralogist in the 19th Century and named in honor of the future Tsar Alexander II of Russia.
Birthstone
June

Ruby
Ruby has an unmistakable fiery colour, thought to be caused by an inextinguishable flame lit from within the stone. It radiates warmth and a strong sense of vitality for its wearer.
Birthstone
July
Derivation
From the Latin 'rubens' meaning red.

Peridot
The evening emerald with its fine pistachio colour and just a slight hint of gold has been much prized throughout jewellery history. In the Middle Ages, people wore peridot to gain foresight and divine inspiration, as well as to protect them against evils.
Birthstone
August
Derivation
The derivation of the name is uncertain but it is thought to come from the Latin 'pæderot', a kind of opal.

Blue Sapphire
Ancient Persians believed that the Earth rested on an enormous blue sapphire, the reflection of which caused the blueness of the sky. It has since come to symbolise loyalty, while at the same time is thought to give expression to people's love and longing.
Birthstone
September
Derivation
From the Greek 'σάπφειρος' ('sappheiros') meaning 'blue stone'

Pink Tourmaline
Tourmalines are stones with an incomparable variety of colours. According to an old Egyptian legend, on its long journey up from the centre of the Earth, tourmaline passed over a rainbow and, in doing so, assumed all its colours.
Birthstone
October
Derivation
From 'toramalli' (Sinhalese) meaning 'cornelian'.



Topaz
The topaz has been known for at least 2000 years and it was noted by the Greeks as the stone of strength. Its exotic figure served as a symbol of beauty and splendour, as well as protection against injury.
Birthstone
November
Derivation
From Topazos, a small island in the Red Sea, where the Romans obtained a stone which they called by this name.

Blue Zircon
Hindu poets tell of the Kalpa Tree, the ultimate gift to the gods, a glowing tree covered in gemstone fruit with leaves of zircon. In the middle ages, zircon was said to aid sleep, bring prosperity and promote honour and wisdom in its owner.
Birthstone
December
Derivation
Thought to be derived from the Persian word 'zargun', which means 'gold-coloured', the most popular type of zircon today is blue zircon.